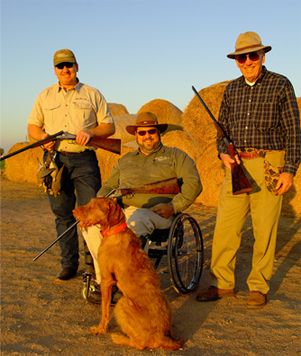 We made our first efforts to import shotguns from Europe in 1968. We wanted to satisfy our own desires to find a few nice English-style doubles which were less costly than a London gun. After seeing the guns in use, several of our friends and hunting companions asked us to order guns for them. As more of these guns were distributed, greater interest was generated and it became obvious that there was a substantial market for this type of gun.
In 1973, we began importing shotguns for resale on a regular basis. We opened our Westlake Village showroom in 1978 and moved to Arizona in 1994, where we opened the Scottsdale showroom. Our current showroom is located in North Scottsdale in the same area famous for the Barrett -Jackson Auto Auction and the TPC golf course that is the site of the Phoenix open golf tournament.
We are constantly striving to find the best guns and gun values available and over the years, we have imported some very fine guns from many of the world's best makers. Currently, we import shotguns and rifles from F.lli Piotti, Armas Garbi, Pedro Arrizabalaga, Arrieta, Rizzini B., and Chapuis. We have long-term relationships with each of these companies with good communications to assure proper completion of your custom order.
In addition to handling custom orders from these fine makers, we try to maintain a substantial inventory of new and used guns from them, as well as a selection of fine pre-owned doubles and other guns of all makes.
To place an order for a new bespoke gun, or for more information, please call or stop by our showroom.