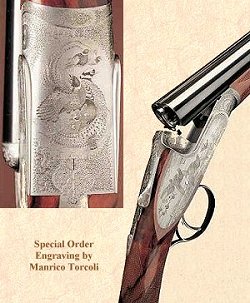 Fratelli Rizzini, the distinguished gunmaking firm in Magno di Gardone, is dedicated to but one purpose: the production of the world's finest double barrel shotgun. The result is that they produce only 25 guns a year, each to the highest standards humanly possible.
The fit and finish of the current F.lli Rizzini shotguns are as fine or better than any gun ever produced. Each gun is made to individual order and carefully tailored to the customer's precise specifications. The immense care and skill that goes into a F.lli Rizzini shotgun make it the obvious choice for those who desire the very best. The actions and locks use the finest materials and are built entirely in the F.lli Rizzini factory.
Every surface, inside and out, is carefully shaped and perfectly polished, the stock finish is a hand-rubbed oil finish applied after the stock is perfectly filled and sealed. The result is a high luster finish literally as smooth as glass. Every detail of the wood is highlighted. The barrels are rust blued with many applications to achieve a very deep, high lustre finish. The combination of the carefully shaped and polished metal, the stock finish and barrel blue produces a distinctive result that is unmistakably F.lli Rizzini.
F.lli Rizzini offers the R-1E sidelock ejector, the locks are of a unique design, patented by F.lli Rizzini, with the bridle an integral part of the lockplate, and the R-3 (available 2001) which offers a patented version of the Anson & Deely boxlock and features a screw less, pin less design.
The base price of a F.lli Rizzini shotgun includes the choice of single or double triggers and a fitted leather trunk case, but not the cost of engraving. Virtually any engraving can be furnished as desired, but must be commensurate with the quality of the gun. A wide variety of ornamental and game scene engravings are available. A number of other features may be specified at no additional cost. These include the type of stock and forearm, stock dimensions, barrel length and chokes, type of rib and weight of the gun. Many other options, including but not limited to, a stock oval, inlaid initials, hand detachable locks, extra sets of barrels, either in the same or a different gauge and a rounded action with smooth wood, are available at extra cost. Multi-gauge sets in .410 and 28, 28 and 20, 20 and 16 gauge barrels are available. These guns can be built on the smaller or larger frame size depending on the size and weight desired. The weight and balance with both sets of barrels is matched as closely as possible.
| | |
| --- | --- |
| | |